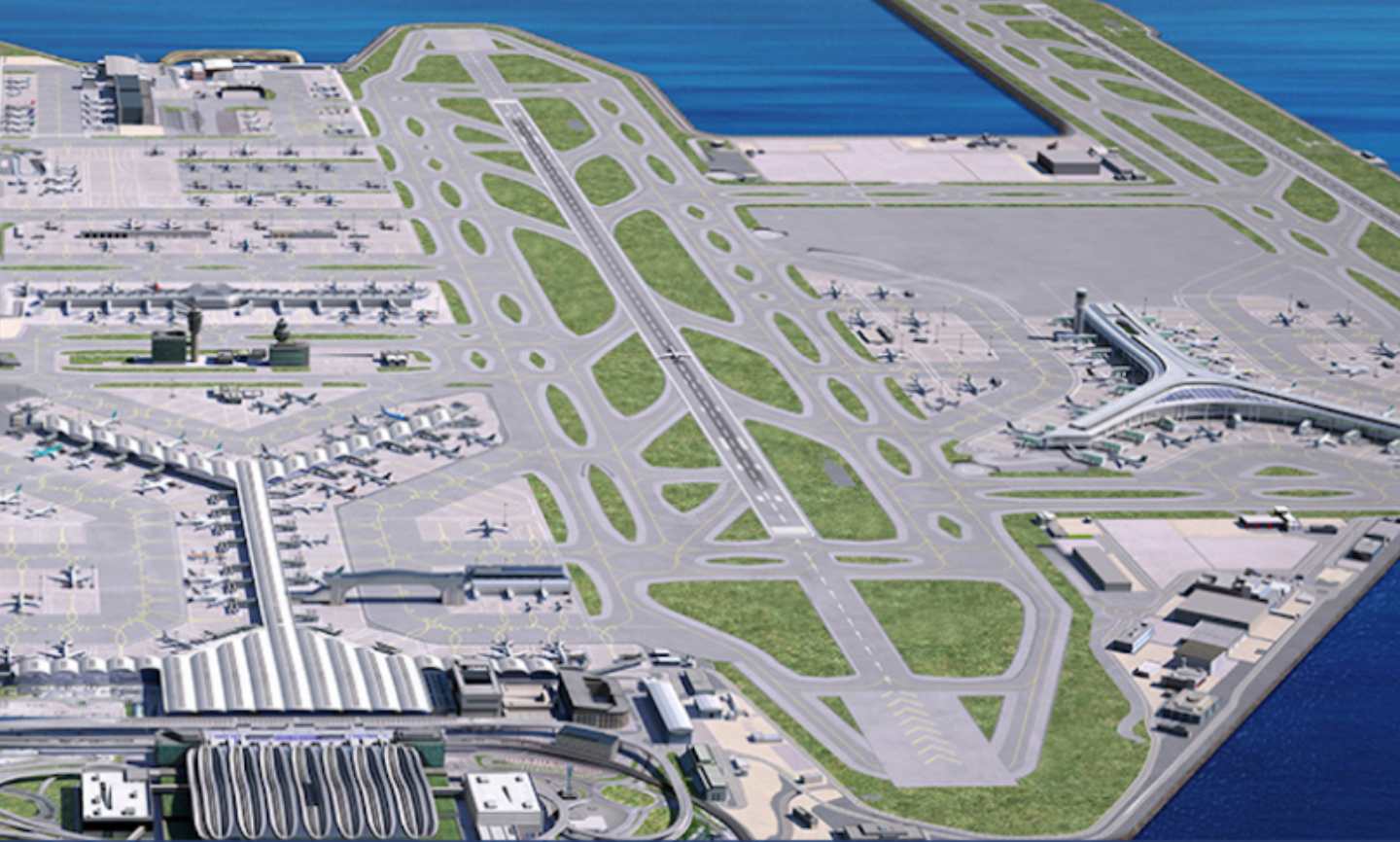 Overview:
Since its opening in 1998, Hong Kong International Airport (HKIA) has grown to become one of the busiest airports in the world. In 2018, the airport served 74.7 million passengers, handled 5.1 million tonnes of cargo and accommodated 427,725 air traffic movements. With more than 120 airlines connecting to over 220 destinations worldwide, HKIA is a leading international and regional aviation hub.
To meet future air traffic growth, the Airport Authority of Hong Kong (AAHK) has embarked upon a major development project which will transform HKIA into a three-runway system (3RS), from the existing two-runway system (2RS).
The project, with a reported capital expenditure of $18 billion USD, eclipses that of the original airport mega project, becoming Hong Kong's largest ever infrastructure spend. Once complete, HKIA will be able to serve an additional 30 million passengers annually. With the land reclamation recently finalized, work on the above ground infrastructure has commenced and it is expected that the new 3RS will be fully operational around the middle of this decade.
Challenge:
The 3RS project is more than a new runway. Its scale is almost equivalent to building a new airport next to the existing one. The project involves reclamation of approximately 650 hectares (~1600 acres) of land directly north of the existing airport island.
A key element of the project is the Third Runway Passenger Concourse, which will encompass more than 280,000m2 of floor area, 57 new aircraft parking positions, and an apron. The aircraft concourse comprises 23,861 tonnes of steel sections, with 79,374 individual sticks of steel, generating 74,103 connections.
To illustrate the sheer size and scale of this aviation mega project, if the concourse structure was to be stood vertical, it would be 785m in height—making it one of the 'tallest' buildings in the world.

Along with this bold new upgrade, the AAHK knew that an equally bold execution plan was needed in order for them to achieve their objective. They wanted to move away from the traditionally staged, siloed mentality that is usually associated with major infrastructure projects.
With the scale of this initiative and the very tight schedule constraints, they needed an innovative approach to construction that would enable them to maximize productivity through improved project workflows. 
As a result, the AAHK engaged DBM Vircon, a premier construction modeling, detailing, and digital engineering company to work alongside the lead engineering firm, AECOM. At an early stage, it was mandated that these teams work collaboratively, utilizing a buildable information modeling software to develop 3D models with millimeter accuracy. In addition, the use of a common data environment was required to coordinate the enormous amounts of data that would need to be securely managed. 
Solution - Trimble Connect:
This type of project delivery is a fairly new, unique process, particularly for a project of this size. As such, DBM Vircon in collaboration with AECOM turned to Trimble to help connect stakeholders across each phase of the project with digital construction solutions like Tekla Structures and Trimble Connect.
Both DBM Vircon and AECOM have a long and proud history of using Trimble products to help deliver successful project outcomes and they were confident that these solutions would meet AAHK mandates through the development of collaborative workflows and improved team productivity. 
For example, instead of using traditional 2D drawing deliverables, the project engineer exported parametric analysis geometry directly from their engineering wireframe software - Rhino. This was passed directly through Grasshopper into a Tekla Structures model share arrangement, using Trimble Connect, where both AECOM and DBM Vircon could easily collaborate. Future updates to geometry could then be pushed into the shared model via scripting. The engineering team used these shared models for design verification and to produce their planning documentation for statutory approvals.
Change management controls were also critical once Rhino geometry updates were no longer possible due to thousands of connections being added to the models. Careful tracking of wireframe movements were required if steel was found to be misaligned or needed to move. Tekla and Trimble Connect were used to enable these functions to be carried out. 
Another innovative solution made possible by Tekla Structures and Trimble Connect open source platforms was the use of Parametric Custom Components. A key challenge to this structure was the concourse roof featuring a subtle whaleback curve. While the geometry is similar bay-to-bay, it was different enough that each bay of steel was slightly dissimilar to the next. DBM Vircon was able to take these varying parameters of ever changing geometry, member sizes, plate thicknesses, welds and bolts quantities and develop parametric custom components, complete with engineered checking data, to control over 60,000 (82%) of these connections.
With 23,861 tonnes of steel in the roof and façade structure and 79,374 sticks within the seven Tekla models, the heavy use of parametric custom components enabled DBM Vircon to rapidly connect geometry that would otherwise have been extremely repetitive and time consuming.  Likewise, connections that were required to change due to design updates could be updated on mass, far quicker than updating manually created ones.
A custom set of connection parameters were exported from Tekla to Excel allowing AECOM to rapidly check a set of parametric connections covering a wide range of variables. This ensured consistent output of modeled connections over having to individually check many manually applied components. DBM Vircon achieved ratios in some models of 100 parametric components controlling 10,000 connection locations. 
Results:
"Whilst fabrication is only just commencing, a number of benefits have been identified", said Rick Sheldon, Project Manager at AAHK.
"The collaborative process implemented by DBM Vircon and AECOM has resulted in AAHK having a much clearer understanding of the status of the structural design, in particular the connection designs, and the Architectural construction detailing. The transparency afforded by AAHK's access to Trimble Connect provided greater certainty with tender quantities, resulting in significant risk reduction."
"The process basically eliminated the usual requirement for RFI's post award as AECOM addressed these prior to tender. It is believed that this process will also considerably reduce the potential for delays claims."
"This processes has also extended from the design stage into the construction stage. A slightly modified version of the design workflow is being used by the contractor to incorporate changes into the Tekla Model. These changes include adjustments based on steel fabrication preferences, MEP services, roof and façade details, and much more. This is all being managed through Trimble Connect."
"We're most proud of the teamwork and collaboration displayed by all project stakeholders, particularly in the wake of the major disruptions and dislocations caused by the COVID-19 pandemic. Tekla Structures and Trimble Connect played a major role in enabling this collaboration," said Simon Schmitt, Business Manager at DBM Vircon.
"Trimble Connect allowed for a fully traceable 3D platform where all project stakeholders could collaborate seamlessly, regardless of their physical location. It offered a reliable solution for information transfer and tagging of ToDo's which was an integral part of how the engineering team completed their checks of the live 3D detail model environment."
Results by the numbers:
$18 billion USD project, making it Hong Kong's largest ever infrastructure spend
Capacity to serve an additional 30 million passengers annually
650 hectares of land reclamation
New concourse building with 280,000m2 of floor area
57 new aircraft parking positions
3,800m long new runway
2,600m long new Automated People Mover
23,000 tonnes of structural steel
79,374 sticks of steel
74,103 connections
Over 2,700 'To Dos' raised in Trimble Connect